Only 7 days until Christmas. Do you still need an idea for a festive tart, rich and chocolaty, perfect to be served in  small bites? Try the chocolate and caramel tart, it's so good!  For a more festive look cover the nuts completely with chocolate and finally sprinkle  with gold dust.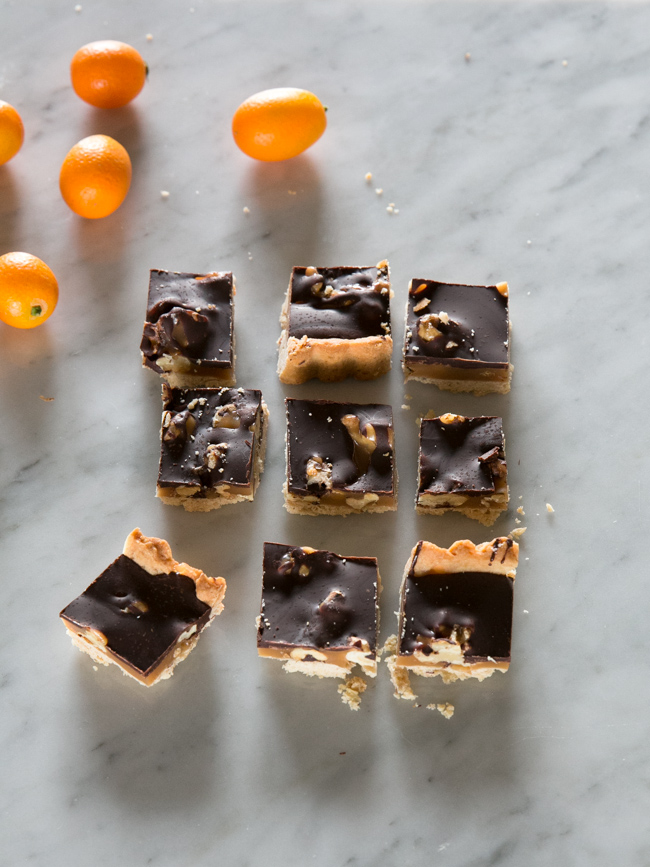 chocolate and caramel tart
for the dough:
170g flour
a pinch of salt
40g powdered sugar
115 butter (cut in small pieces)
1 egg
for the caramel layer:
120 walnuts, pecans or hazelnuts, roasted
200g sugar
2 tablespoons honey
25g butter
200g heavy cream (Schlagsahne)
for the chocolate topping:
150g good quality 85% chocolate
1) Form a heap with flour, powdered sugar and salt. Form a well in the middle of the flour mixture and fill it with the egg and the butter. With your hands start mixing the egg with the butter, then adding quickly the flour. Form a ball, flatten it (like a thick pancake) and wrap it in a foil. Let it rest in the fridge for 1 hour minimum.
Preheat the oven to 180°C. Butter the tart pan. Roll out the dough on a floured surface.  Fit the dough into the tart pan, gently pressing it against the base and up the sides of the pan. Prick all over the base with a fork. Cover with parchment paper and fill with dried beans. Bake for 10 minutes, Remove the weight and the parchment and bake other 5 minutes. Set aside to cool.
2) Roast the nuts.
3) Melt the sugar in a medium pan over medium heat. When it has completely melted turn down the heat to low, add carefully butter, honey and heavy cream and stir with a wooden spoon for about 10 minutes until smooth and creamy.
4) Spread the nuts on the dough shell and cover with the warm caramel. Set aside to cool.
5) Heat the chocolate in a bain-marie  and stir until until completely melted. Pour onto the cool caramel layer. Let it cool for one hour before serving.