Lately  my organic vegetable provider asked me if I wanted him to add some pink and purple potatoes to my weekly order. I immediately agreed because 1.) I always love to try something new and 2.) Sophie Calle's chromatic diet in mind, two difficult colours suddenly seemed to come within reach.
But before throwing myself again into the sophisticated Fine Arts of monochromatic cooking I went for a very quick and simple potato lunch: oven roasted wedges with  Gremolata using the last fresh herbs from my garden: rosemary, thyme, parsley and summer savory.
My Gremolata
1/3 cup olive oil
the zest of a small lemon, grated
1/2 ts grated orange zest (optional)
3 cloves of garlic, minced
1/4 ts red pepper flakes
2 tbs parsley, chopped
1 ts fresh rosemary, chopped
1 ts fresh thyme
1ts fresh summer savory
Whisk together 1/3 cup olive oil and the herbs, zests, garlic and red pepper. Set aside for at least half an hour.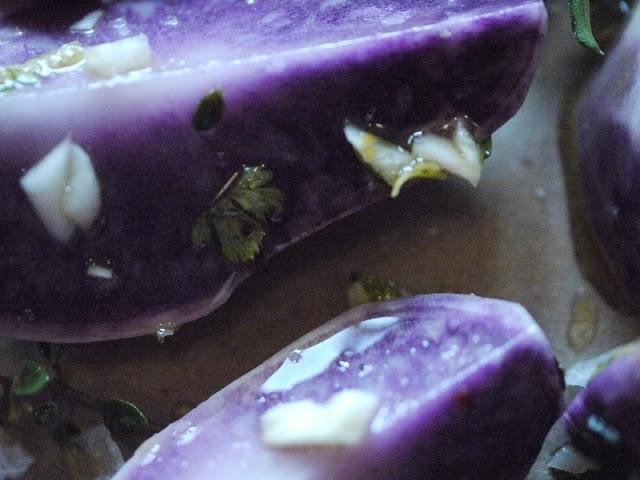 "Salad Blue" potatoes
Preheat the oven to 200°C. Cut the potatoes into wedges. Toss the potatoes with the gremolata and add salt and pepper to taste. Spread the wedges out on a rimmed baking sheet and bake for about 30 minutes.
The result: delicious taste with an avant-garde look!