08:00     cup of hot water and a Ginger Shot (aka Healthy Espresso)
10:00     Utterly Orange
13:00     Greyhound Soup
16:00     Dreamy Detox
19:00     Greyhound Soup
before sleep: Kusmi Tea Detox Grapefruit (can't get enough of it!)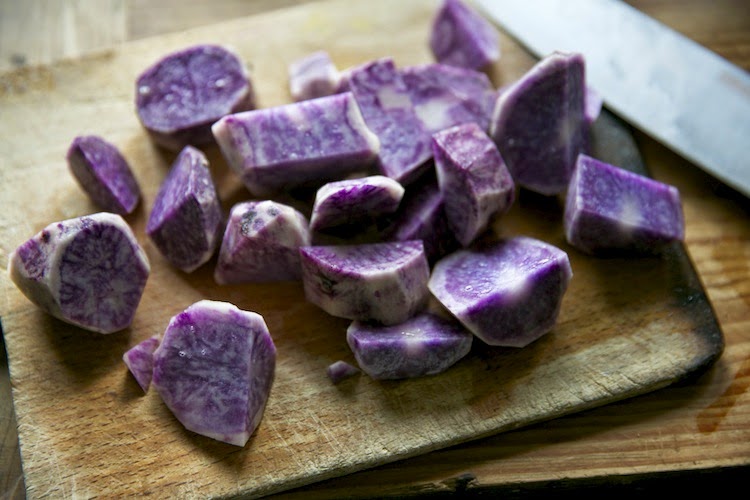 Purple potatoes make grey soup. It does'nt look too appetizing but gives you the unique opportunity to present your brightest china and flowers without the food stealing the show!
The recipes:
Utterly Orange
(yields 1 juice)
2 juicy oranges (peeled, leaving pith on)
150g natural yoghurt
1/2  banana
a small handful crushed ice
Juice the oranges and pour into the blender. Add the yoghurt, banana and ice into the blender. Blend – pour – enjoy!
Dreamy Detox 
(yields 1 juice)
2 apples
1 slice of lemon with rind on
1/4 cucumber
1 stick celery
1cm piece fresh ginger
handful ice cubes
Juice everything and place ice and juice in a blender. You may skip the blender, but it's better and smoother with the blender.
Greyhound Soup


3 potatoes "Blauer Schwede"
the white part of a leek
vegetable broth to cover the vegetables
Cook until the vegetables have softened, then blend. Before serving top with a dollop of fresh goat cheese and a nasturtium blossom. Sprinkle with chili salt and freshly ground black pepper.