One of my most loved cookbooks at the moment is Breakfast, Lunch, Tea from Rose Bakery in Paris.
Rose Bakery offers a modern, simple and healthy cuisine, using first quality, organic ingredients from regional suppliers. Just what I'm  trying to do here in my everyday kitchen for my family and friends.
One of Rose's recipes I tried out lately is the pistachio cake. I was looking for a nut cake, because I had some leftover roasted ground almonds waiting to be used. Hm, only 60g… well , in the drawer I still stored some hazelnuts,  pistachios and pine nuts from my last Almwiesenmuesli. I ground them all in the little Zyliss drum grater (highly recommendable: my best kitchen tool!) and tadaaa:  the required 200g!
The original cake and the original recipe look like this: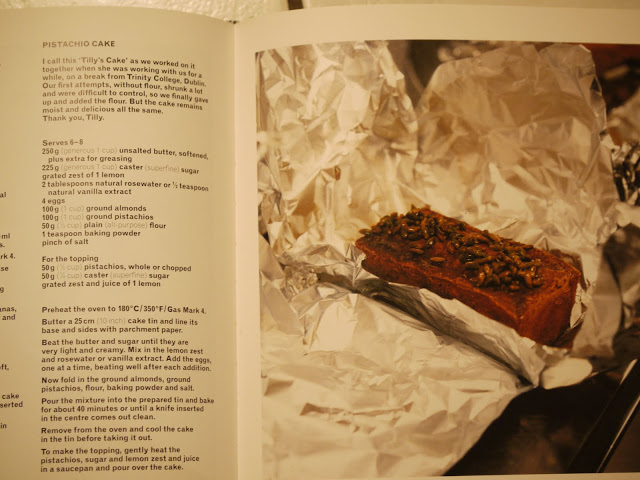 And here is my variation:
250g butter
200g sugar ( I took 25g less than in the original)
grated zest of one lemon
2 tablespoons rosewater (yes, it gives a very subtle and delicious flavour!)
4 eggs
200g ground almonds, pistachios, pine nuts and hazelnuts
50g flour
1 teaspoon baking powder
1 pinch of salt
Preheat the oven to 180° C.
Butter  a 25cm cake tin or the cake tins you decide to use.
Beat the butter and sugar until light and creamy. Mix in the lemon zest and the rosewater. Add the eggs one at a time, beating well after each addition.
Now fold in the ground almonds, ground pistachios, flour, baking powder and salt.
Pout the mixture into the prepared tin and bake for about 40 minutes. 30 minutes if you take smaller baking tins.
I made no topping, because I liked the little Gugelhupfs just like that. Otherwise heat in a saucepan:
50g pistachios , whole or chopped
50g caster sugar
grated zest and juice of on lemon
and pour  the mixture over the cake.