…. has been inspired by Amy Chaplin's brilliant book at home in the whole food kitchen.


Her coconut and quinoa pancakes are completely flour- and gluten-free, though unexpectedly tasty and tender.  If you want to go for the vegan version just replace the egg for a "chia egg". The pancakes are prepared in a minute provided you haven't forgotten to soak the quinoa before you went to bed.
The slight citrus flavour of the pancakes went perfectly well with the fresh blood orange.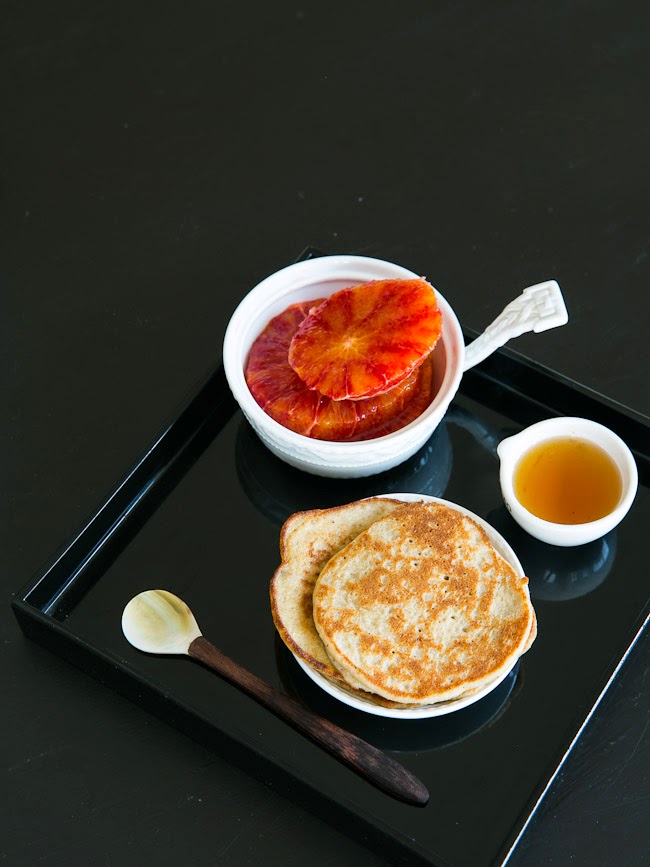 Coconut and Quinoa Pancakes (recipe by Amy Chaplin)
makes ten 10cm (4 inch) pancakes
1/2 cup quinoa , washed and soaked 12-24 hours in 1 cup water
1/2 cup rolled oats
3/4 cup unsweetened, shredded coconut, divided
1 cup almond milk
1 egg
2 tablespoons melted extra virgin coconut oil, plus more for cooking the pancakes
2 teaspoons vanilla extract
1 teaspoon aluminium-free baking powder
1/2 teaspoon cinnamon
zest of a large lemon
to serve:
seasonal fruit and berries
maple syrup or honey, optional
lemon wedges, optional
Drain and rinse quinoa and place it in an upright blender. Add oats, 1/4 cup coconut, almond milk, egg, coconut oil, vanilla, baking powder and cinnamon.
Blend on high speed for about 40 seconds or until completely smooth. Add remaining coconut and lemon zest and stir with a rubber spatula to combine.
Warm a cast iron skillet over medium heat , add about 1 teaspoon coconut oil and spoon in about 1/4 cup batter for each pancake. Cook for about 3 minutes or until surface is covered with bubbles and bottom is golden and beginning to brown. Flip and cook for another 2 minutes.
These pancakes are best right off the pan, but they can also be kept warm in a 90°C (200°F) oven as you cook the whole batch. Serve with blood orange and maple syrup.
❤️