In Bali we got to enjoy Ketut's Dadar Cake, a Pandan scented crêpe filled with coconut and palm sugar syrup. We loved it so much that we had it nearly every morning for breakfast together with a fruit plate and a freshly opened coconut.
It made me more than happy that one day Ketut invited me to join her into the kitchen to give me a master class in dadar cake cooking. I tried to make it back home (I even had brought a whole twig of pandan leaves) at 5 o'clock in the morning (jet lag!) and I admit, the result has been good enough to satisfy my cravings, but in no way it reached the effortless art of chef Ketut.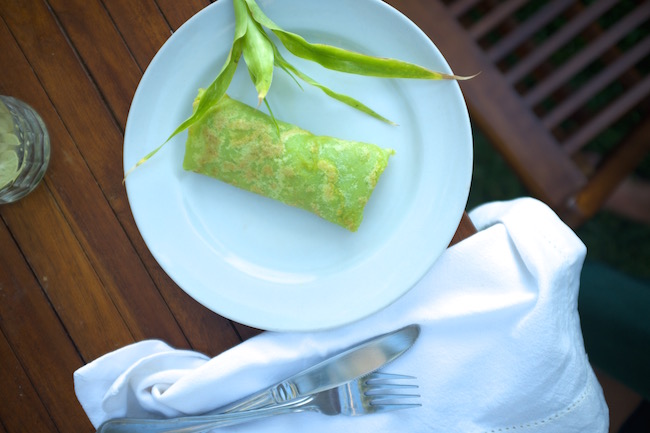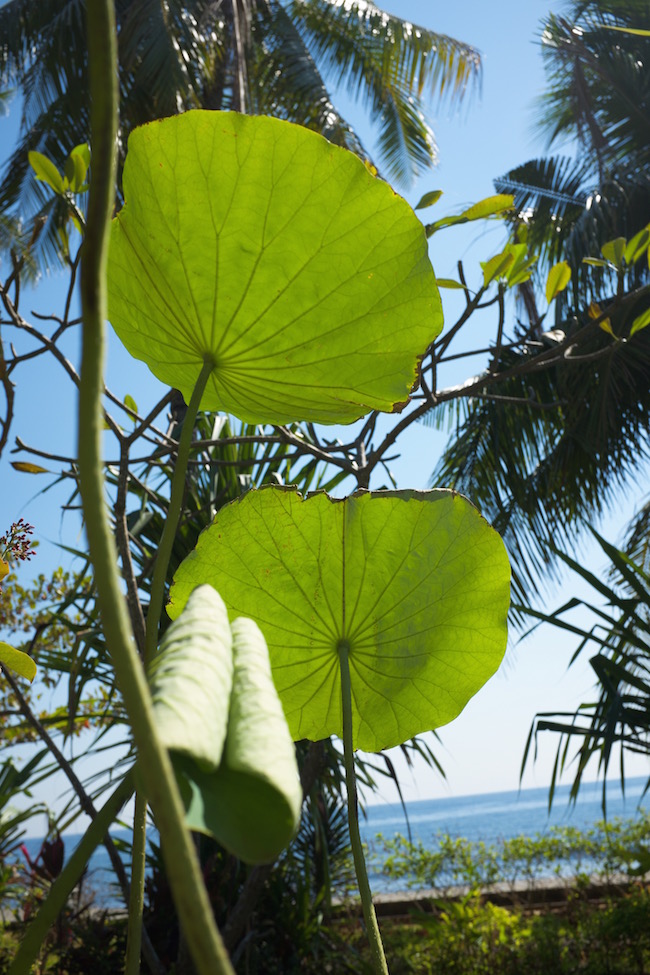 Dadar Cake
(yields 6 pancakes)
for the the batter:
1 cup rice flour
1 teaspoon baking powder
1/2 teaspoon sea salt
1 egg
1 teaspoon vanilla essence
pandan leaf scented water
butter for frying
for the filling:
about 200g palm sugar
a pinch of salt
1 cup water
grated coconut
Chop the pandan leaves, fill them into a blender and add about 600ml water. Blend the leaves shortly and pour the beautifully green liquid through a strainer. In case you'd run out of pandan leaves, I would recommend you take organic green food colouring (the kind you use for macaron making).
Put the remaining ingredients into a bowl and always whisking, slowly add as much of the green liquid as you need to obtain a rather thin batter.
For the filling mix palm sugar, salt and water in a sauce pan and cook on low heat always stirring until the mixture gets syrupy. Always stirring start sloooowly adding grated coconut. You should know that the balinese grated coconut is fresh and moist in comparison to our imported and packed one so you will need a rather small amount in order to keep the filling soft and moist.
Once finished the filling can be stored in an airtight container in the fridge.
Use butter for frying the crepes and make sure they are very thin. Fold in about 1 tablespoon of coconut palm sugar into each pancake. Serve with fruit and coconut water. Enjoy!