This is the time of the year when Erzgebirgian Arches and the beautiful stars of the Moravian Church shine through our wintery darkness.
It's also high time to start with the Christmas bakery. These dried fruit and oat cookies are equally delicious made with fresh fruit pulp instead of dried fruit. My favourite version? Fresh fruit pulp + raisins! Or… dried fruit + a handful of chocolate chips?? As the fruit is the last ingredient to be added, I suggest you divide the dough and make both.
I double the amount of dough when the whole family comes together.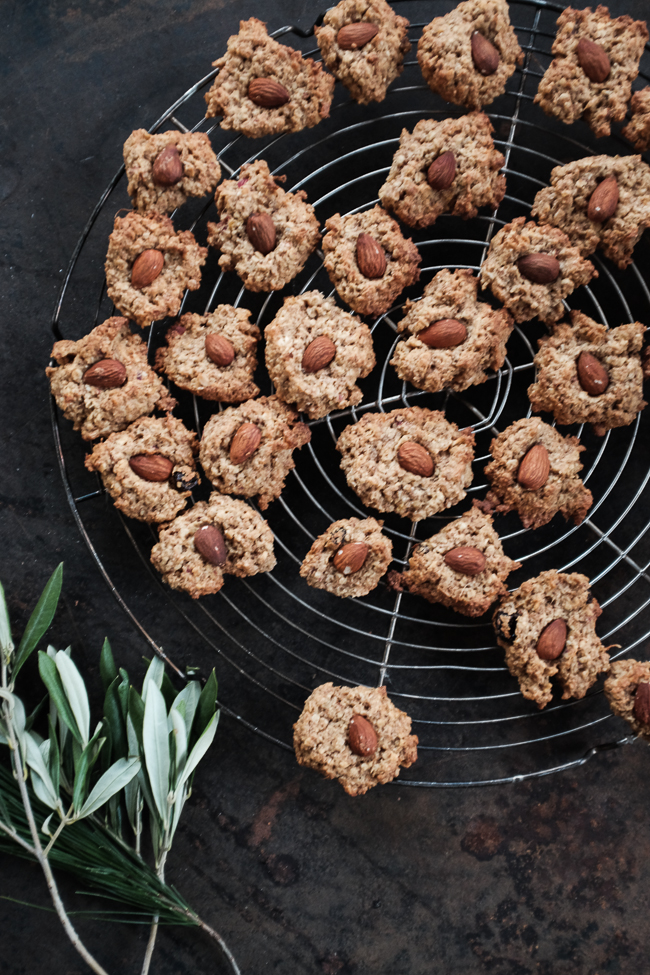 Dried fruit and oat cookies
(yields about 25 cookies)
100g butter, at room temperature
100g brown sugar
1 teaspoon vanilla powder
1 egg
1 teaspoon baking powder
a pinch of sea salt
80g flour (I use wholemeal flour)
50g oatmeal
40g dried fruit (apricots, raisins, cherries, chopped); + optional: a handful of chocolate chips
or fresh fruit pulp left over from juicing (apples, ginger, orange, pear)
almonds for topping
Preheat oven to 180°.
In a large bowl and using your hands combine butter and sugar. Add vanilla, egg, salt, baking powder and flour. Work in until the mixture is uniform. Finally add the oatmeal and the fruit (plus chocolate chips to your liking).
Using a teaspoon drop little heaps of dough onto the baking sheet and flatten them. Top each one with an almond.
Bake the cookies about 10 minutes if you like them soft, 15 minutes if you like them darker and crispier.