On a cloudy day mid-June I was invited into my friend's rose garden. She has a beautiful collection of historical roses growing in wild bushes and blooming only once a year. Their special charm lies in their wildness. They are not pruned into shapes or put into arrangements. The first thing you notice is the lovely scent wafting through the garden – especially on a warm summer day after the rain.
Their names are full of meaning: Mariage Parfait, Isphahan, Unschuld, La Belle Sultane, Great Maidens Blush, Empress Joséphine, Madame Hardy, Yolande d'Aragon only to name a few. My friend has a map that shows the name and location of each kind.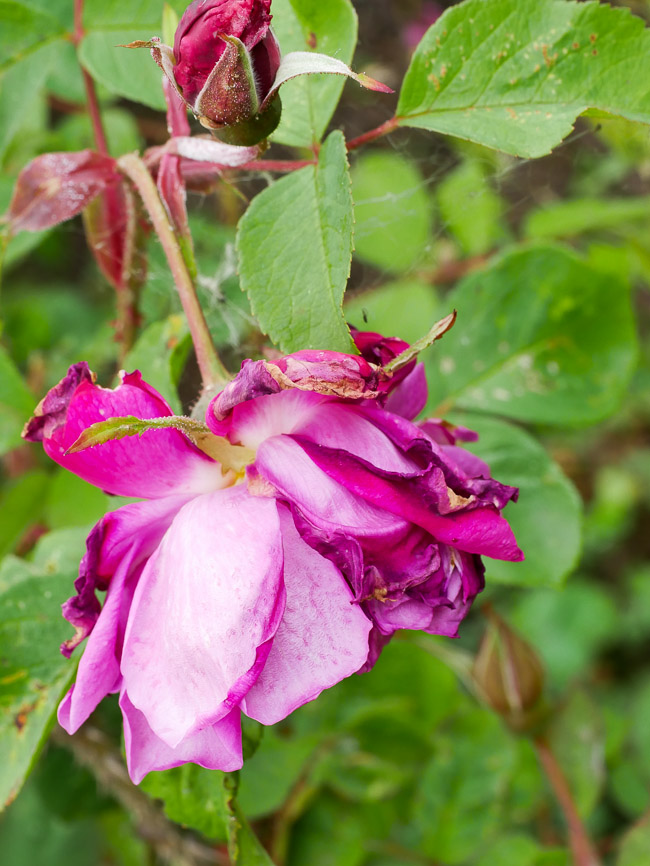 In the picture above you see the Rosa Mundi Gallica Versicolor, my friend's most beloved rose.
Diptyque about their Rosa Mundi perfume. "A rose always blooms like every first love story. And all love is a world in itself. Hence Rosa Mundi".


On my way out my friend generously gave me one of each rose in a huge bouquet. Even though for herself she never cuts them for the vase.
rose petal jelly
petals from 8-10 organically grown fragrant roses
300ml dry white or red wine
200ml water
500g preserving sugar (1 plus 1)
1 tablespoon freshly squeezed lemon juice
1 tablespoon rosewater
Bring the water to a boil in a medium saucepan, remove from heat, add the petals, cover and let steep for at least 30 minutes.
Strain liquid into a clean saucepan, discard petals. Let cool.
Add sugar and lemon juice. Bring mixture to a boil, boil for 4 minutes. Remove from heat, add rosewater. Pour into sterilized jars and let cool.