In our internal ranking system the giant bean soup unanimously scored a 10, which translates to 3 Michelin stars, 7 golden ladles or 5 chef's hats. The combination of veggies and beans results in a humble yet luxurious comfort food.
Root vegetables, especially burdock root, are very strengthening and make for a warming winter dish, much needed in the cold month of March.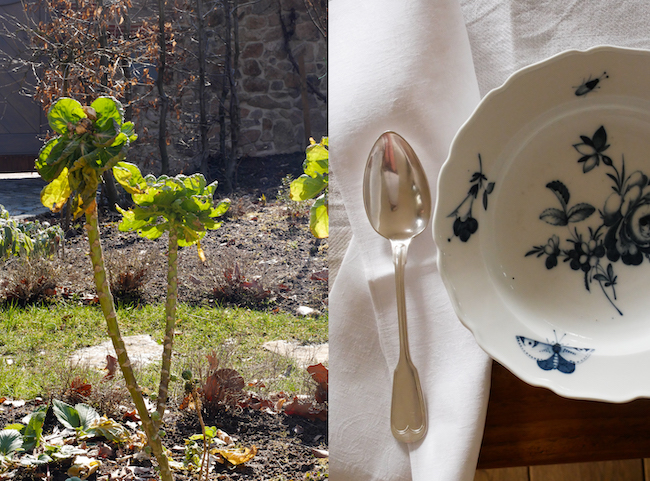 giant bean soup
Ingredients:
400g giant beans, canned
1 tablespoon olive oil
1 onion, chopped
1 leek, chopped
3 celery sticks, chopped
3 carrots (or 2 carrots and 1 burdock root), sliced
3 cloves of garlic, finely sliced
1 bay leaf
1 sage leaf
1 teaspoon dried thyme
2 potatoes
a few leafy greens like kale, Brussels sprouts or Swiss chard
1 1/2l organic vegetable broth
1 splash of white wine
parsley to garnish
Tabasco, lemon and lime to season at the table
In a big pot heat the olive oil and fry the chopped onion. When the onion starts to brown add the leek, and after a few minutes, the celery. Continue frying the mixture for a few more minutes at a high temperature.
Add a splash of wine, the vegetable broth, thyme, sage, the bay leaf and finely sliced garlic. When the broth has heated up to a steady simmer, add potatoes, sliced carrot and burdock root. Then cover the pot with a lid.
After 10 minutes the potatoes and carrots should have softened enough so it's time to add the giant beans and leafy greens. Put the lid back on just for a couple of minutes as not to overcook the greens, and then your soup is ready to serve!
Garnish with parsley leaves and some freshly ground black pepper, and if, like us, you enjoy seasoning some more at the table, a squeeze of lemon or lime and a few drops of tabasco are heavenly.