My international family of favourite green bean recipes (German with tomatoes, onions and vinaigrette, Spanish with fried garlic and almonds) welcomes a new brother in their midst: Asian gingered beans with hijiki.
This recipe is full of flavour and makes use of the beautiful hijiki algae, and fancy yet very easy to prepare.
dry and soaked hijiki
gingered beans  with hijiki (inspired by Alicia Silverstone)
1/2 cup dried hijiki
1 tablespoon tamari
2 tablespoons olive oil
1/2 cup onions, chopped
1 tablespoon finely chopped garlic
pinch of sea salt
2 cups fresh geen beans
2 tablespoons grated ginger
Place the hijiki in a small bowl with hot water. Let it soak for about 30 minutes, then drain and rinse.
Combine the hijiki with the tamari, add waterto almost cover in a saucepan.Cook, uncovered over medium heat until the water has nearly evaporated.
While the hijiki cooks, heat the oil, add onion, garlicand salt and sauté for about 4 minutes, or until translucent. Add the green beans. Cover and cook until the beans are tender-crisp, about 5 minutes.
Add the hijiki and ginger.
Mix well and cook for 1 to 2 minutes longer to marry the flavours.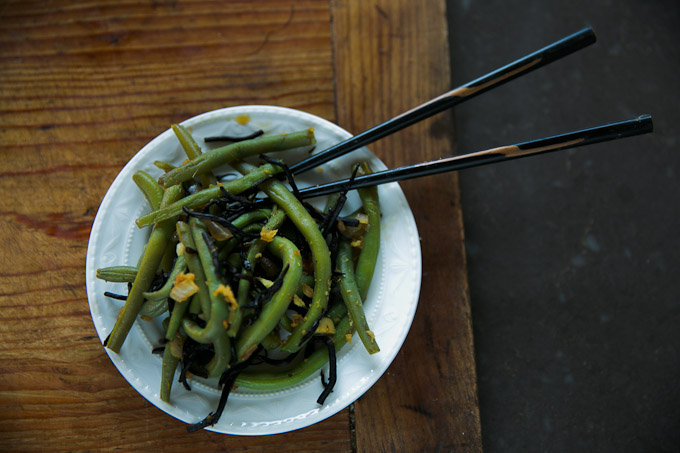 Enjoy!