Paella sounds like mastery. An elaborate spanish national dish with many ingredients you normally don't store in your pantry.  No place for spontaneity.
This might be right in theory, but…..  if you keep in mind (and in your pantry) two or three essentials which are responsible for the typical paella flavour you'll be surprised by the result. Even without shopping before at the best delikatessen in town.
I'll tell you the secret: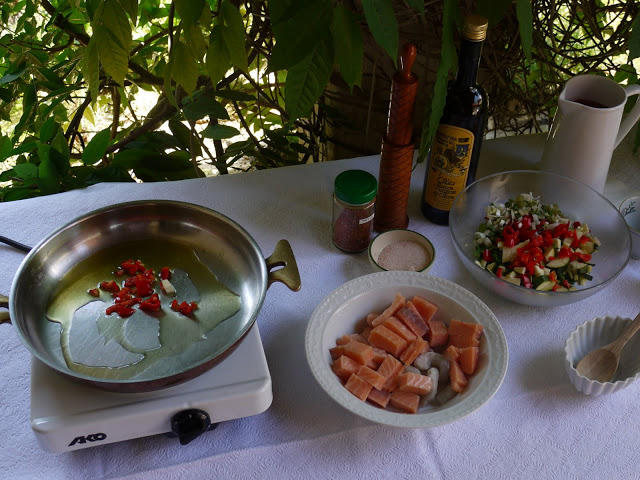 if you have got an outdoor hotplate, use it. It will give you an immediate feeling of luxury and ESPAÑA!
the smell and the flavour of fried red bell pepper is a must and peas always look nice in a paella
more chopped vegetable like courgettes, green beans, onions, garlic…
you need pieces of fish, shellfish, chicken or chorizo, at least one of these four
a big jar with a mixture of vegetable/chicken stock, a can of tomatoes and a big glass of white wine
paella condiment (pepper, thyme, rosemary, safflower, cloves and nutmeg, paprika)
any kind of not too sticky rice
Have always in mind that Paella originally has been a dish to make use of remains. As you can see in the picture I had a variety of vegetables but from the fishy side only salmon and a few shrimps. Why not?
Paella ( the genuine, one of the many)
extra virgin olive oil
1 medium chicken, jointed and cut in pieces
1 chorizo sausage, sliced
500g mussels
8 big prawns
2 small pieces squids, trimmed and cut open
1 onion
a handful of peas
a handfull of green beans, cut in pieces
1 red bell pepper, chopped
4 garlic coves, finely chopped
500g rice – Paella style
1 1/2 l stock
400g canned, puréed tomatoes
150ml white wine
1tablespoon Paella condiment
1 bayleaf
salt
pepper
1 lemon
Season the chicken with salt and pepper.
Mix the hot stock with the tomatoes, white wine and paella condiment. Fill it in a jar.
Put the oil in a Paellera ( large flat pan)  and brown the chicken pieces. Add onions, garlic and red bell pepper (Hm, the smell!) and allow to soften. Add the chorizo.
Add the remaining vegetables and a pinch of salt.
Add now the rice, stirring until it is coated with olive oil. Pour 1/3 of the stock mixture into the pan. Cook until the stock has disappeared. Add the mussels and squids and 1/3 of the stock. When the rice is almost cooked, add the prawns and the last 1/3 of stock. Check the seasoning.
When the rice is cooked cover it for ten minutes with a periódico (newspaper) and take a bottle of red wine out of the fridge.
Cut the lemon into wedges and place them around the edge of the pan.  "Que aproveche!"